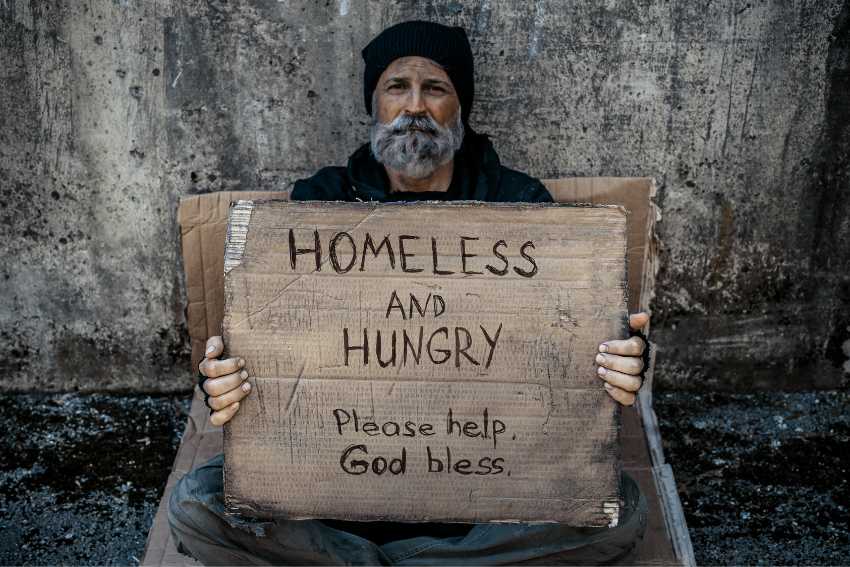 Homelessness is a heart-wrenching reality for countless individuals and families worldwide. It's an experience that can be overwhelmingly challenging and isolating, leaving people feeling helpless and defeated.
However, despite the struggles, stories of courage, hope, and inspiration emerge from those who have experienced homelessness firsthand.
In this blog, we've compiled 50 of the most meaningful and uplifting quotes for anyone who's ever felt the weight of homelessness. These quotes come from various sources, including renowned philosophers, compassionate humanitarians, and individuals who have overcome homelessness.
Whether you're experiencing homelessness or need inspiration and encouragement, these quotes will speak to your heart and lift your spirits. So, join us as we explore these inspiring words and find the strength to keep moving forward.
Also Read: 50 Funny Plumbing Quotes | Plumbing Captions for Instagram
50 Best Inspirational Quotes for Homeless
1."Home is a notion that only nations of the homeless fully appreciate and only the uprooted comprehend."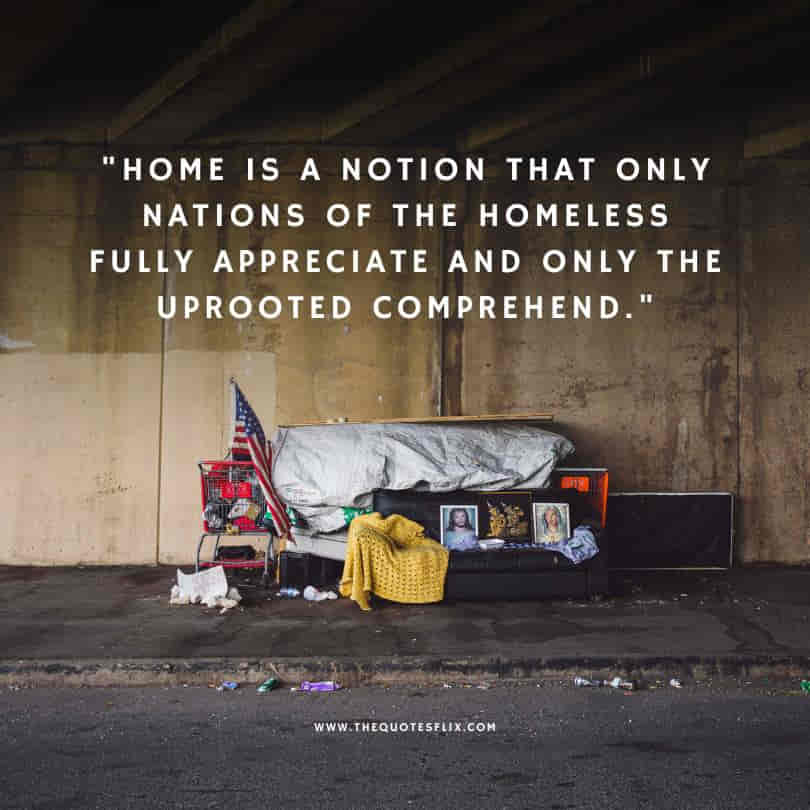 Also Read: 70 Best Motivational Cross Country Quotes For Runners
2. "We think sometimes that poverty is only being hungry, naked, and homeless. The poverty of being unwanted, unloved, and uncared for is the greatest poverty. We must start in our own homes to remedy this kind of poverty." – Mother Teresa
3. "People who are homeless are not social inadequates. They are people without homes." ~ Sheila McKechnie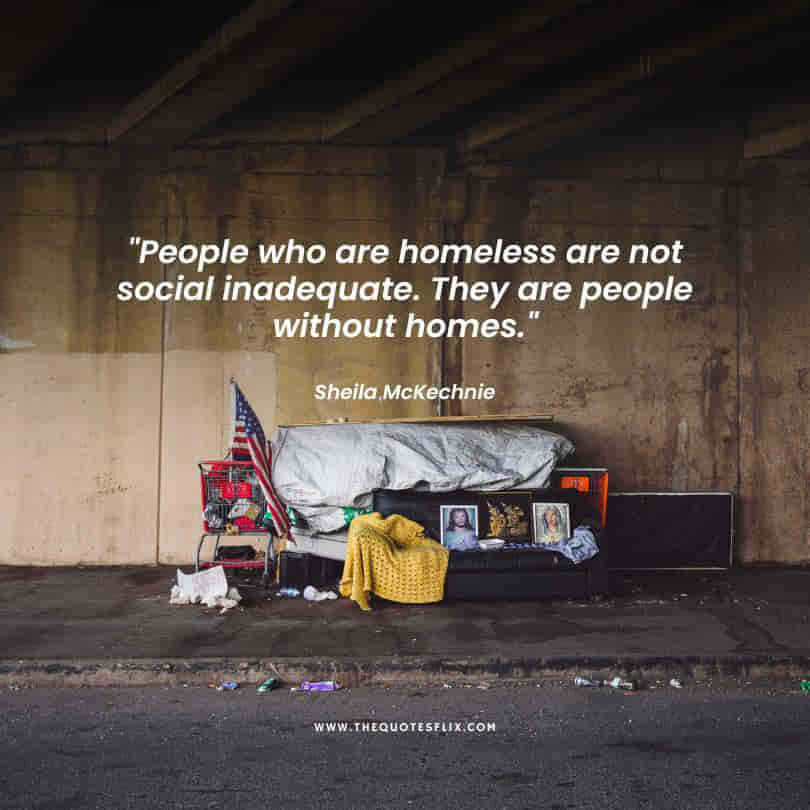 Also Read: 10 Best Cancer Hospitals in Philadelphia
4. "Don't try to drive the homeless into places we find suitable. Help them survive in places they find suitable." ~ Daniel Quinn
5. "When life gets hard, try to remember: the life you complain about is only a dream to some people."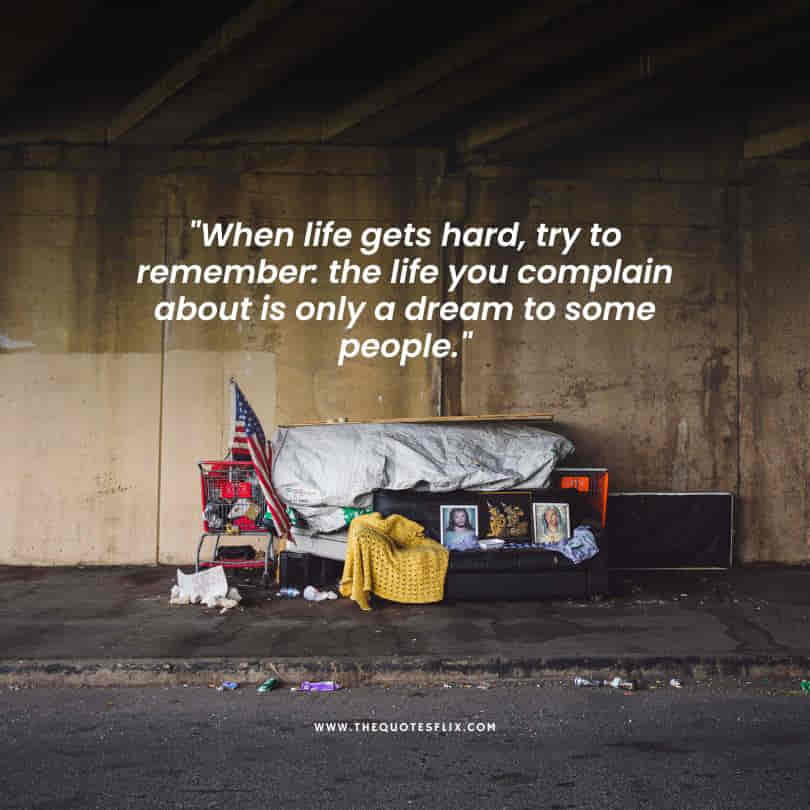 Also Read: 9 Best Cancer Hospitals in Mexico
6. "My life was a wandering; I never had a homeland. It was a matter of being constantly tossed about, without rest; nowhere, and never did I find a home." – Jan Amos Komensky
7. "It takes a society to combat homelessness, and a strong nation to fight poverty." – Wayne Chirisa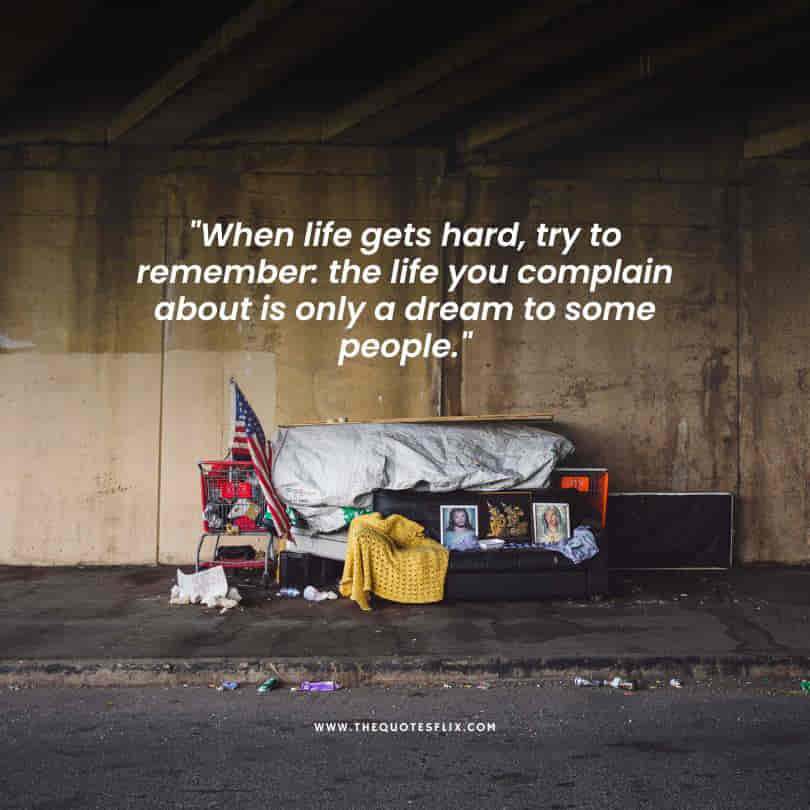 Also Read: 50 Best Relationship Love Quotes For Her
8. ''Freedom is meaningless if people cannot put food in their stomachs, if they can have no shelter, if illiteracy and disease continue to dog them.'' – Nelson Mandela
9. ''There's no reason someone who has fought for their country should be homeless or jobless.'' – Chris Kyle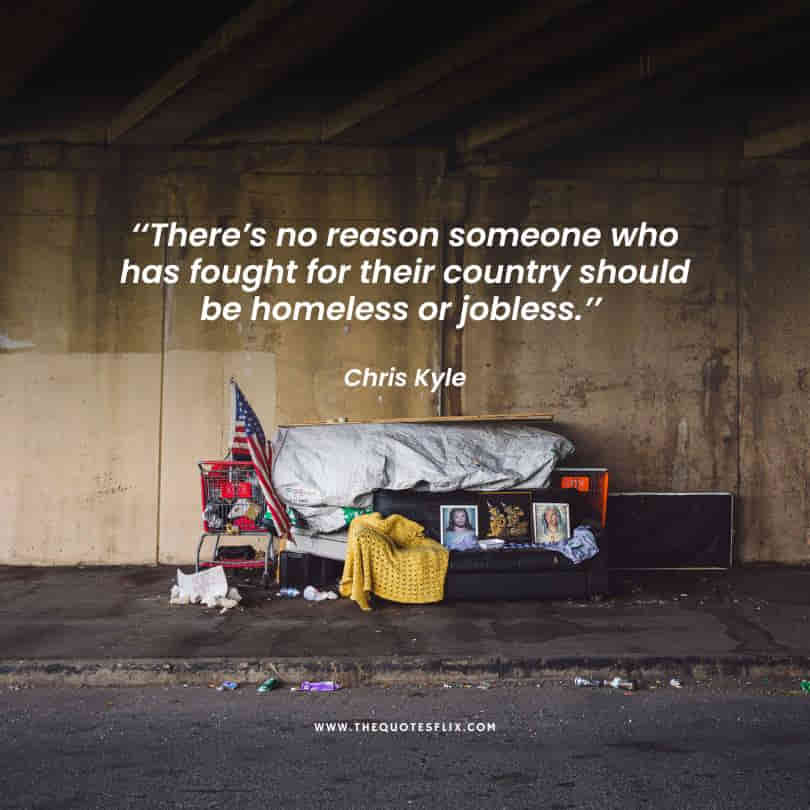 Also Read: 9 Best Cancer Hospitals in Boston
10. ''People who are homeless are not social inadequates. They are people without homes. ''– Sheila McKechnie
11. "Home's where you go when you run out of homes."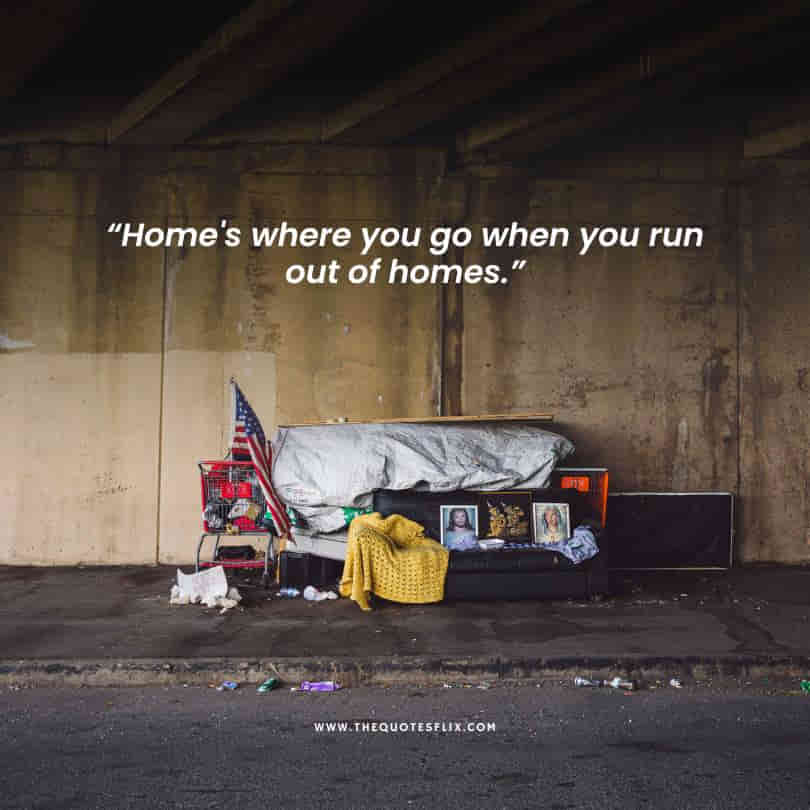 Also Read: 50 Best Unconditional Love Quotes for Her
12. "Fear is dangerous. It creates an environment in which it's acceptable to treat those experiencing poverty and homelessness with anger and hate. The first step to stopping this is to realize that this fear is unfounded and dangerous."
13. "Before you ignore another homeless person on the street, just remember that that could be someone's father or someone's mother and they have a story."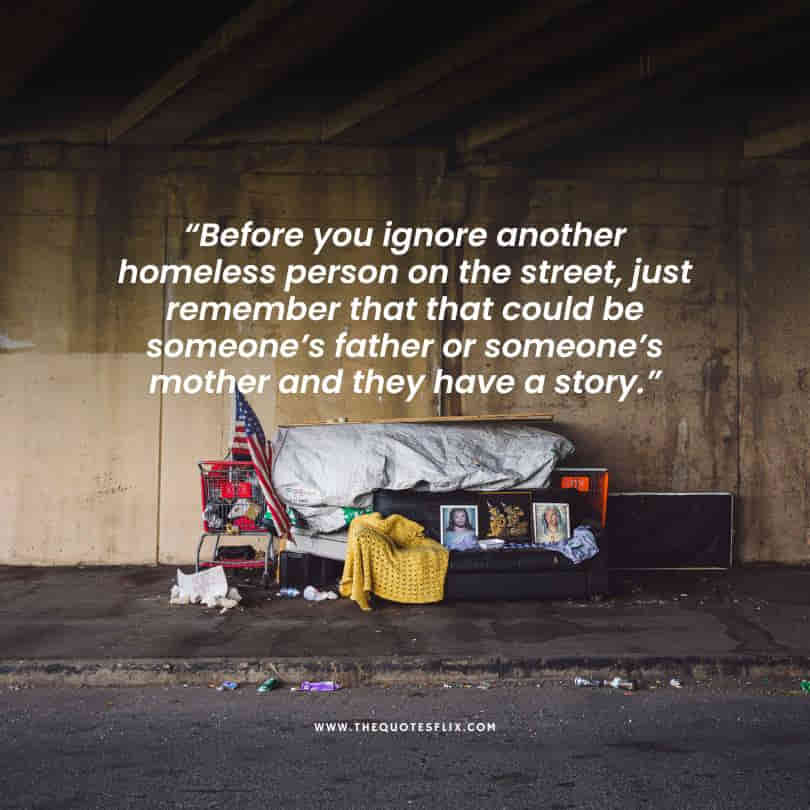 Also Read: 10 Best Cancer Hospitals in Washington
14. ''Not everyone who's homeless is a drug-addict or in need of mental health care. Some are normal people who've been knocked down, and it can happen to you too. Not all of us made bad life choices.'' – Sherrilyn Kenyon
15. "We have come dangerously close to accepting the homeless situation as a problem that we just can't solve." ~ Linda Lingle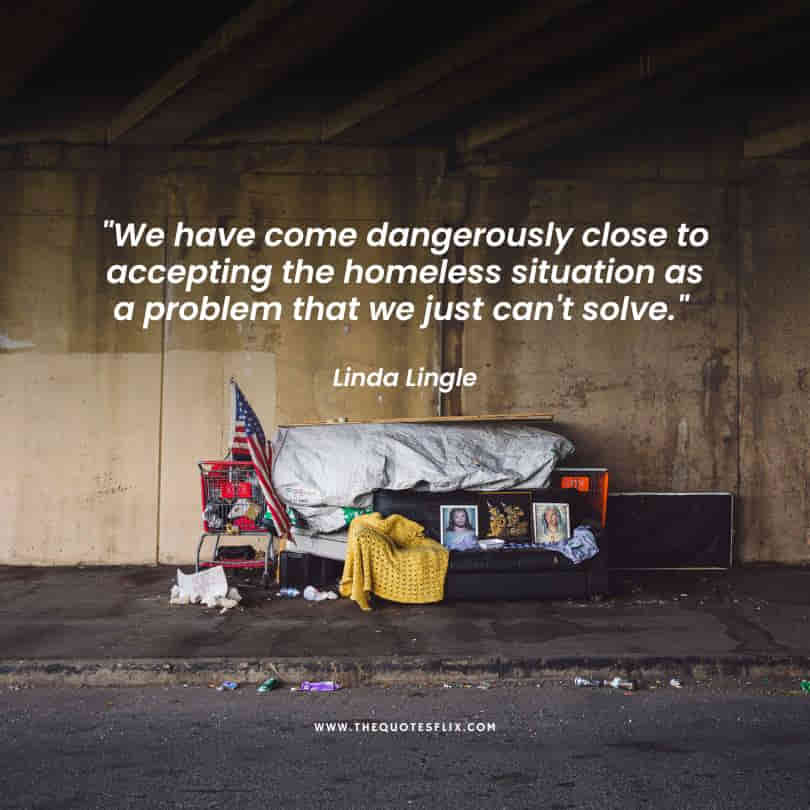 Also Read: 10 Best Cancer Hospitals in Texas
16. "We have weapons of mass destruction we have to address here at home. Poverty is a weapon of mass destruction. Homelessness is a weapon of mass destruction. Unemployment is a weapon of mass destruction." ~ Dennis Kucinich
17. "Treat him as a friend and save a life – A homeless man is not a leper." – Sir Kristian Goldmund Aumann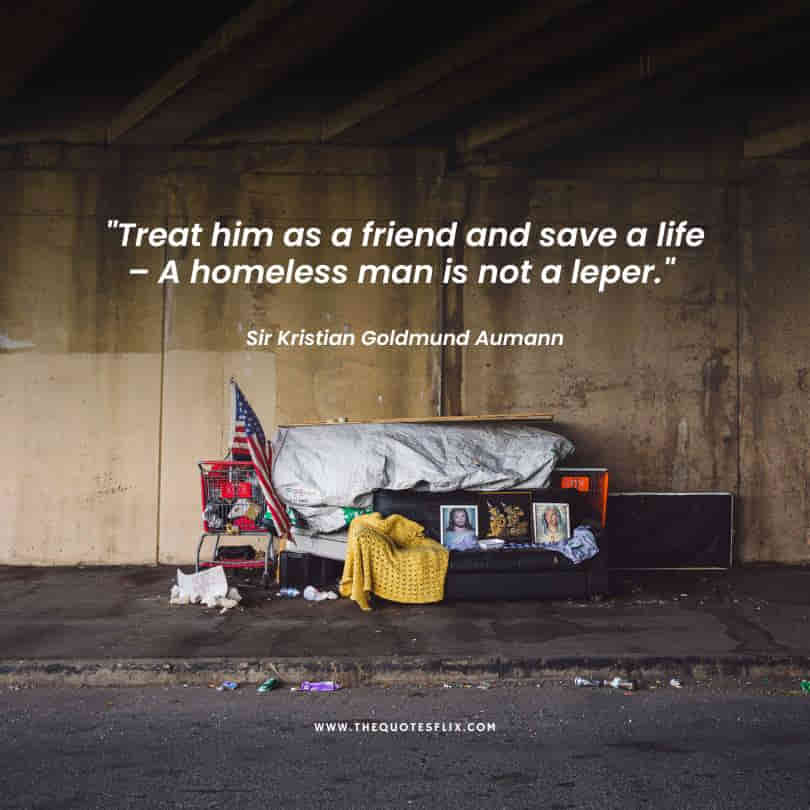 Also Read: 50 Best Funny Quotes About Golf
18. "Let your love be the kindness to make a homeless person believe that a soul needs something more than just four walls and a ceiling." – Munia Khan
19. "There are millions of homeless people in the world because humanity does not have a proper conscience!" – Mehmet Murat Ildan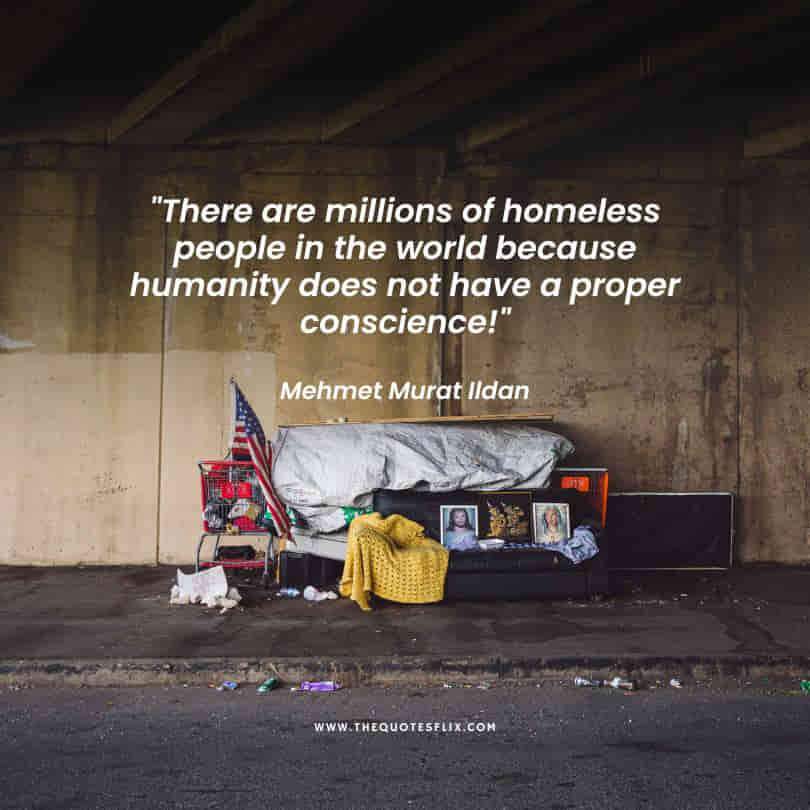 Also Read: 50 Quotes From Experts About Smoking
20. "Nowhere in the bible did it say, Only show compassion and empathy to those you can trust. If we did that, we would be burying homeless people every day." – Shannon L. Adler
21."Homelessness has become a human rights crisis."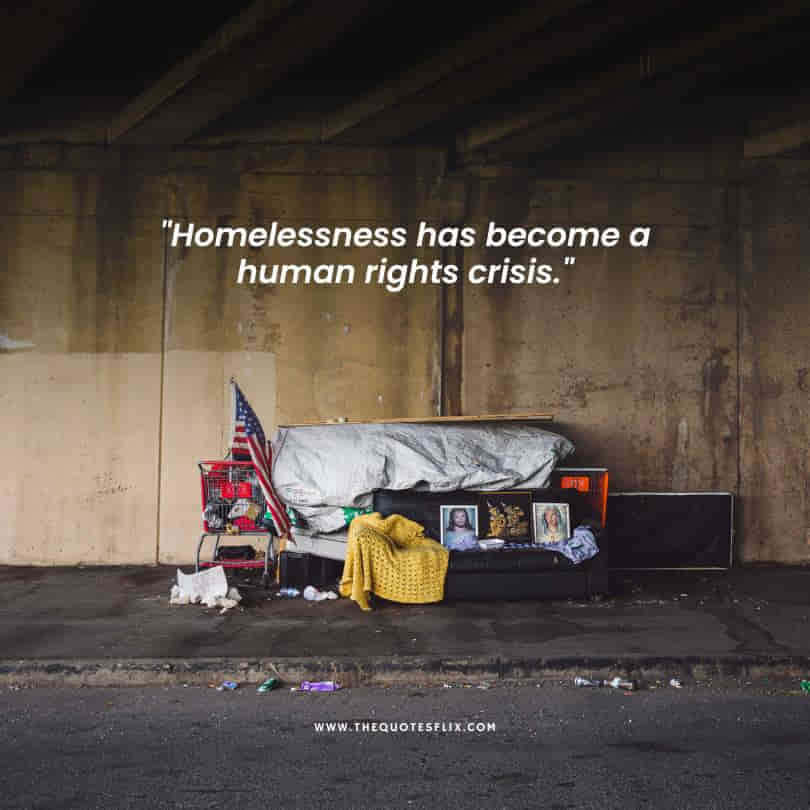 Also Read: 115 Best Inspirational Dental Quotes
22. ''There is a lot that happens around the world we cannot control. We cannot stop earthquakes, we cannot prevent droughts, and we cannot prevent all conflict, but when we know where the hungry, the homeless and the sick exist, then we can help.'' – Jan Schakowsky
23. ''The world of the homeless is a tough and interesting world.'' – Paul Dano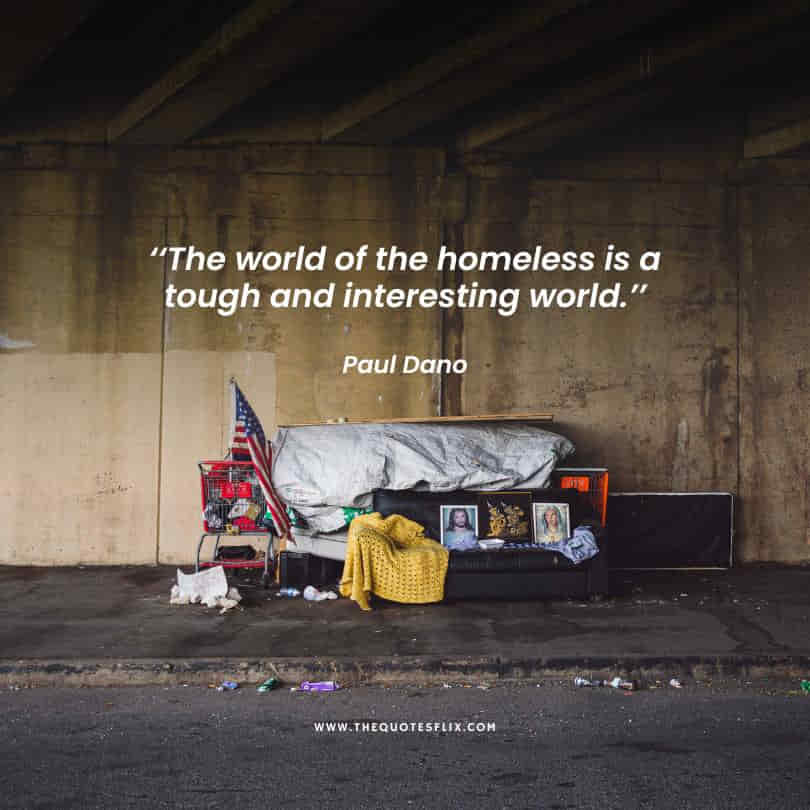 Also Read: 125 Best Inspirational Quotes From Black Leaders
24. ''One of the toughest jobs we have is convincing some people that we're not making up this problem. The homeless out here may be harder to see, but they are all around, right beneath the surface.'' – Dottie Kastigar
25. "Homelessness is not a choice, but rather a journey that many find themselves in." – Asa Don Brown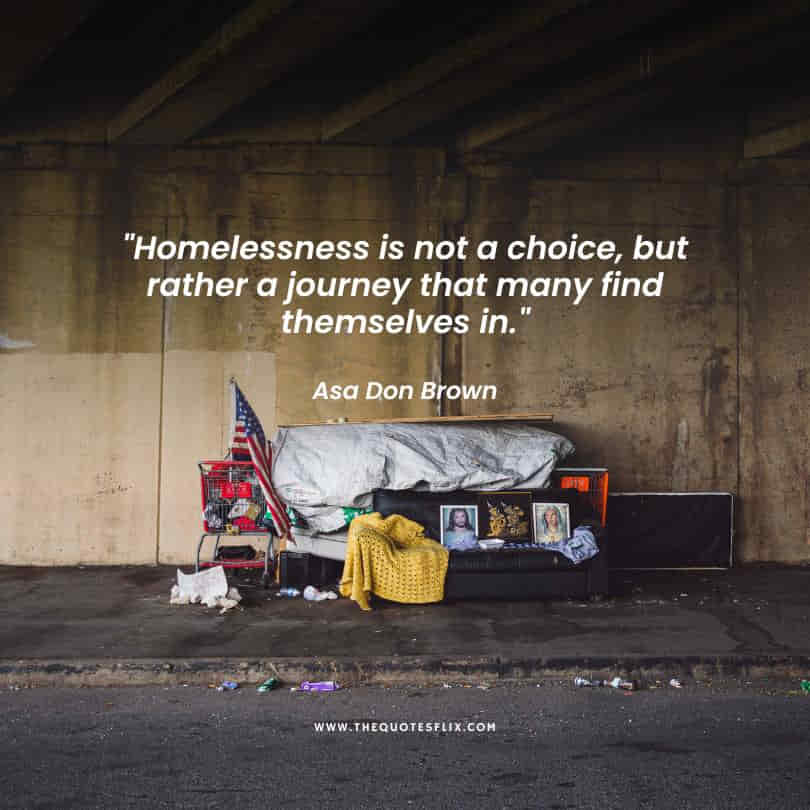 Also Read: 100 Inspirational Quotes for Athletes
26. ''To those who are struggling. To talk about a struggle, you're likely to forget about it. To be shown a struggle, you're likely not to forget it. But, to live through a struggle, you'll understand it.'' – Valerie Owens
27. "Having an open mind means learning to add more to our already existing beliefs about affirming dignity of those who are impoverished."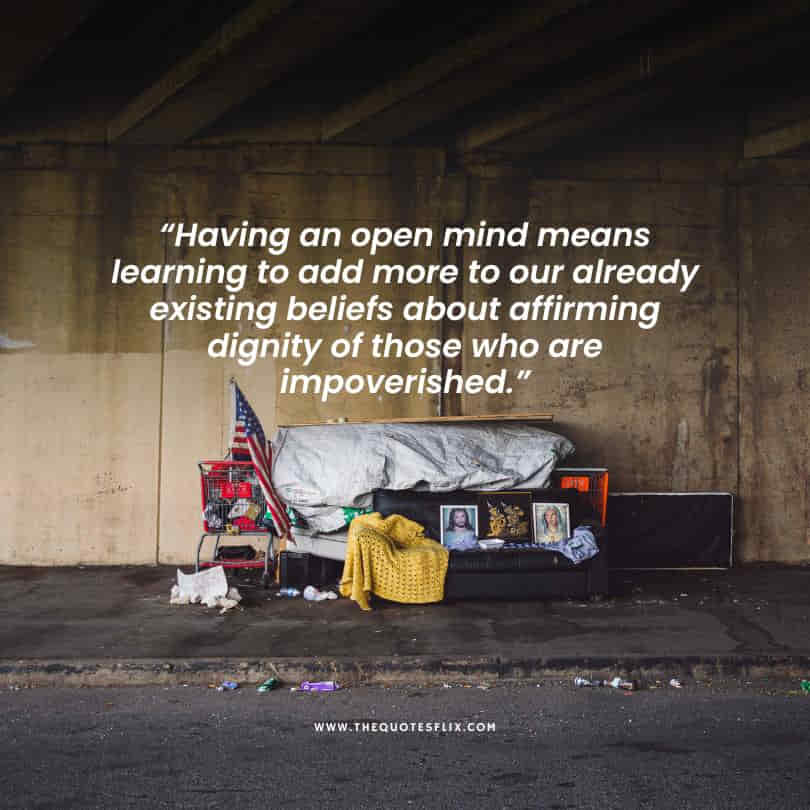 Also Read: 75 Best Inspirational Ted Lasso Quotes
28. "To save a life is a real and beautiful thing. To make a home for the homeless, yes, it is a thing that must be good; whatever the world may say, it cannot be wrong."— Vincent Van Gogh
29. "My piece of bread only belongs to me when I know that everyone else has a share, and that no one starves while I eat." — Leo Tolstoy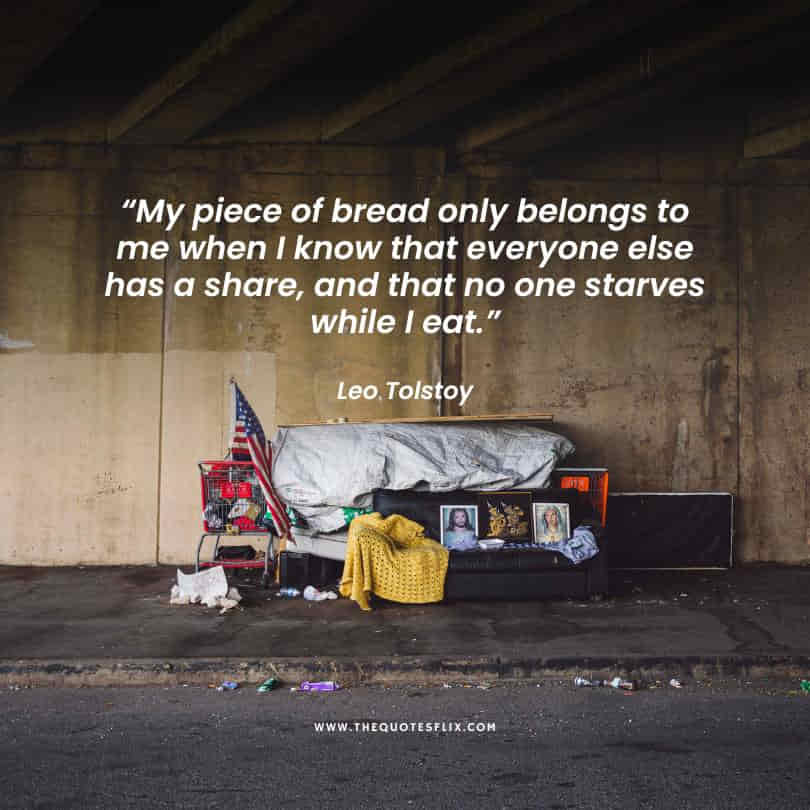 30. "Human beings can withstand a week without water, two weeks without food, many years of homelessness, but not loneliness. It is the worst of all tortures, the worst of all sufferings." ~ Paulo Coelho
31. "Our prime purpose in this life is to help others and if you can't help them, at least don't hurt them."— Dalai Lama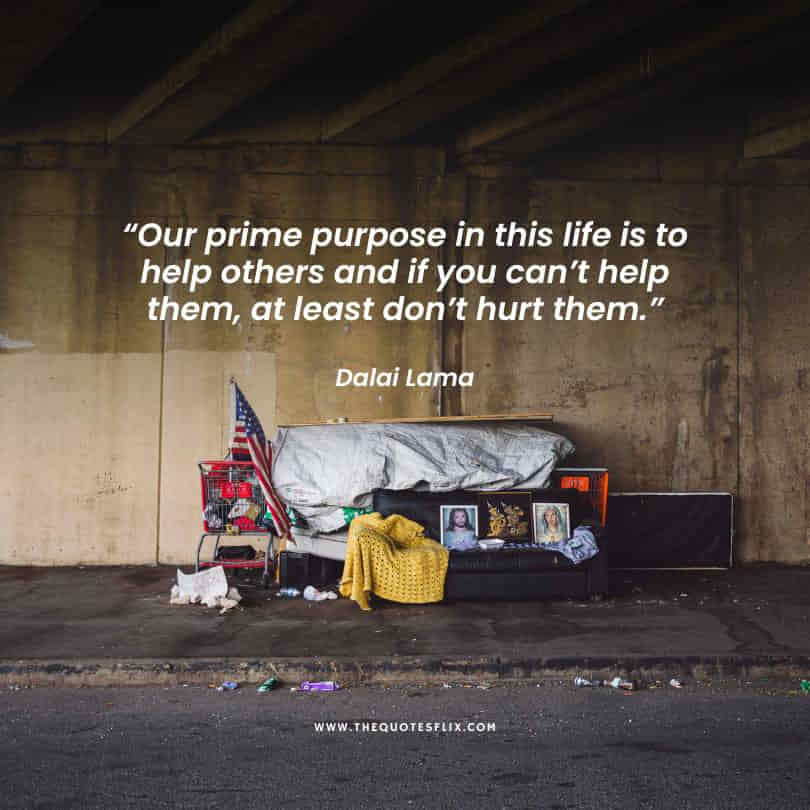 32. "If we truly want to end youth homelessness… then we have to invest in prevention and support communities as they work to implement these life-changing efforts." ~ Cyndi Lauper
33. "People can be so apathetic. They continue to ignore the real people trapped in poverty and homelessness. It's almost maddening"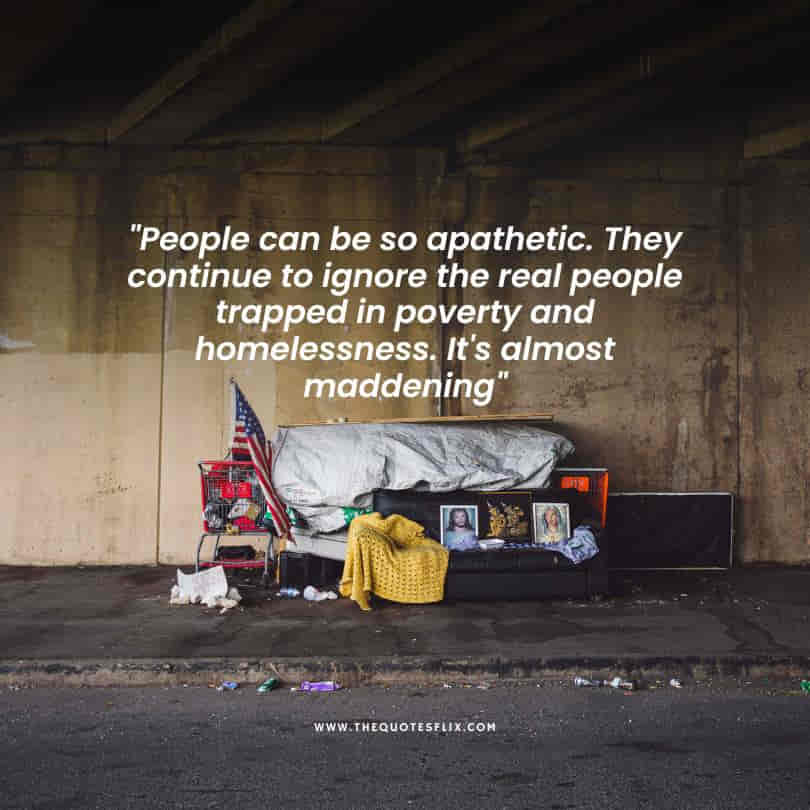 34. "Like you, I know people who drink, people who do drugs, and bosses who have tantrums and treat their subordinates like dirt. They all have good jobs. Were they to become homeless, some of them would surely also become 'alcoholics,' 'addicts,' or 'mentally ill." – Elliot Liebow
35. "Most homeless kids are on the streets because they have been forced by circumstances that cause them to think that they are safer there than in any home they once knew." ~ Jewel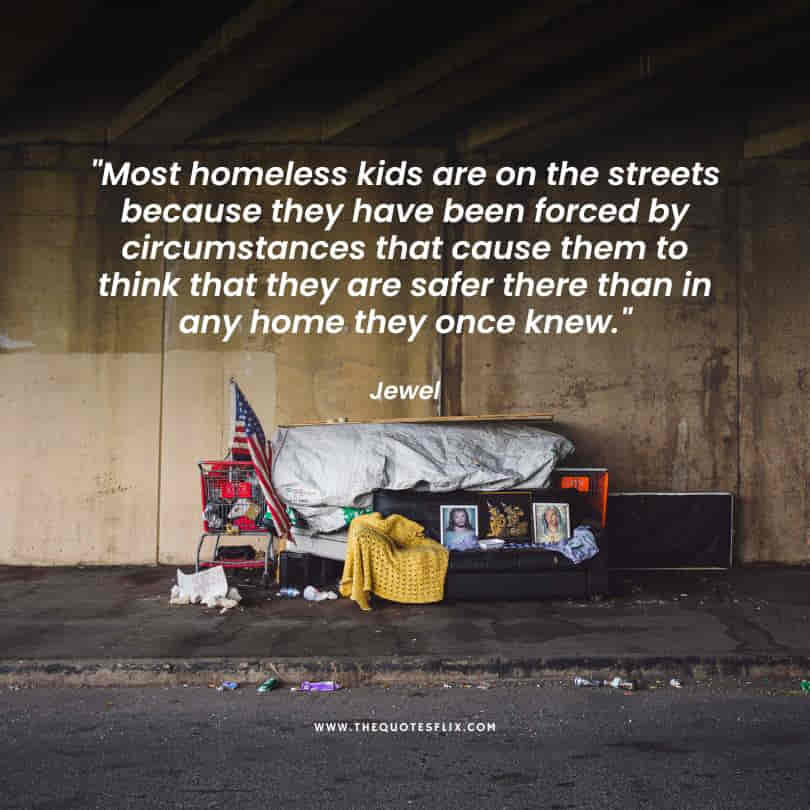 36. "Escaping poverty among the physical barriers is difficult, but with the added emotional toll, it's almost impossible. It's not as simple as we'd like to think." – Terence Lester
37. "We live in a world where there is so much wealth. There shouldn't be a homeless person. That's crazy." – Raheem De Vaughn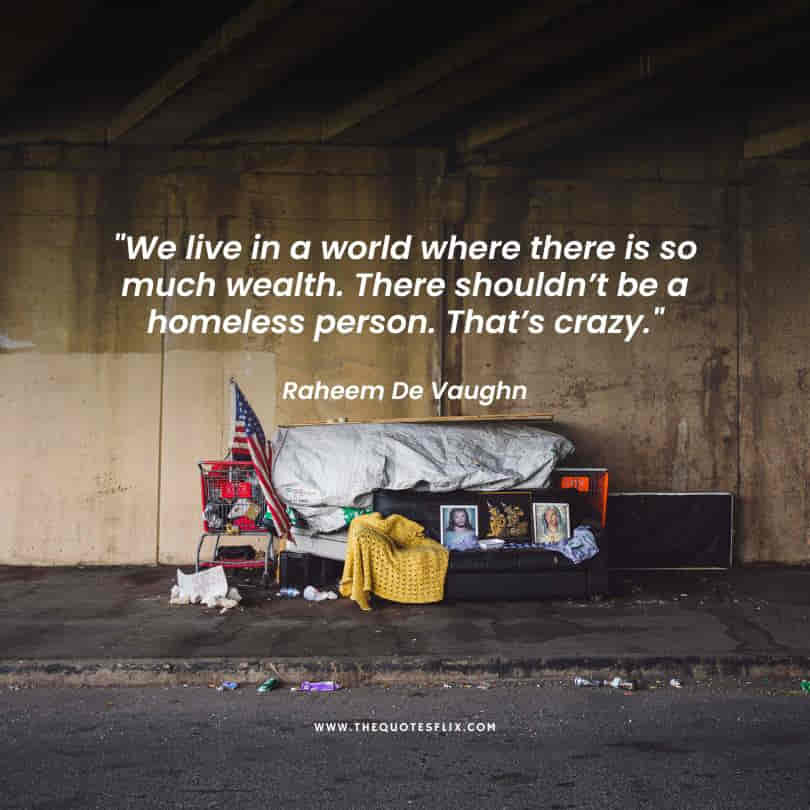 38. "Most people never really sat down and got to know a homeless person but every homeless person is just a real person that was created by God and it is the same kind of different as us; they just have a different story." – Ron Hall
39. "You can spend money on new housing for poor people and the homeless, or you can spend it on a football stadium or a golf course." – Jello Biafra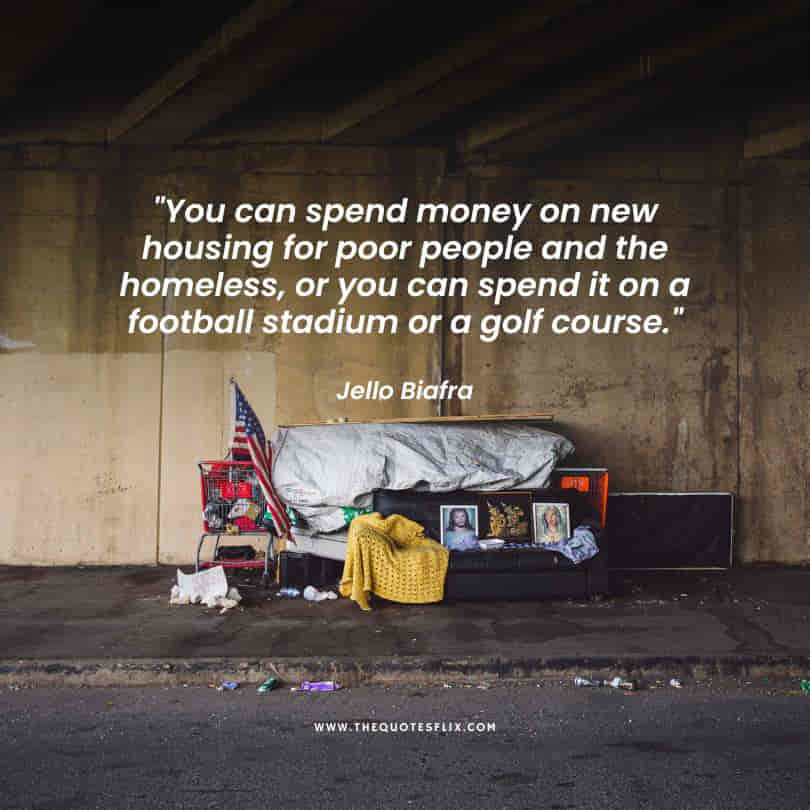 40. "Homelessness is not just about having a job or an apartment. Too often homelessness is due to a disordered mind."– Danielle Steel
41. "The world of the homeless is a tough and interesting world." – Paul Dano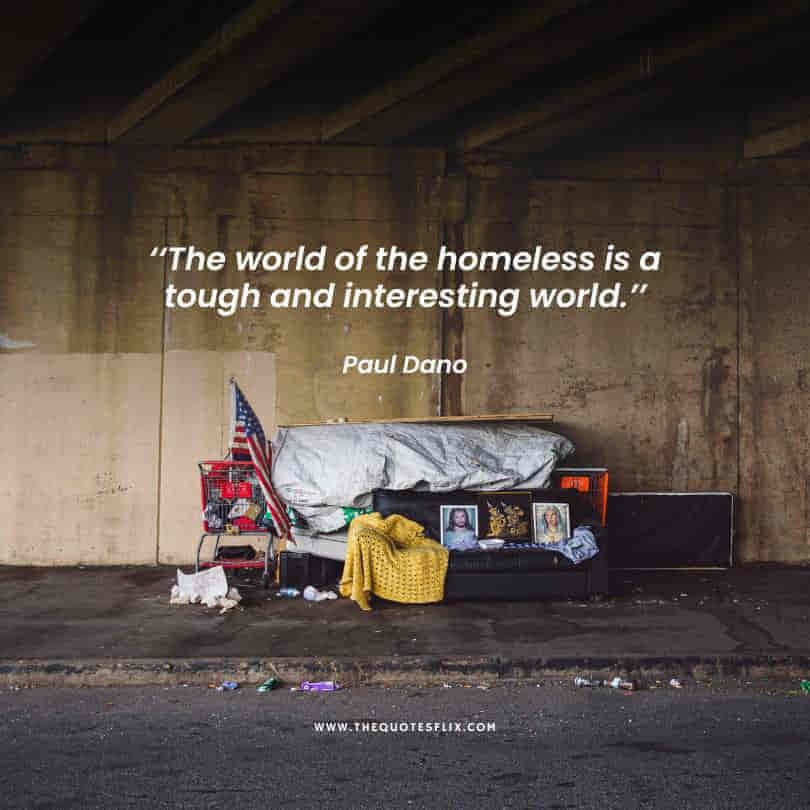 42. "Homelessness is not the result of not having a house, it's a lack of a soul in a body." – Goitsemang Mvula
43. "It is a special kind of homelessness to be evicted from your dreams." ~ Karen Russell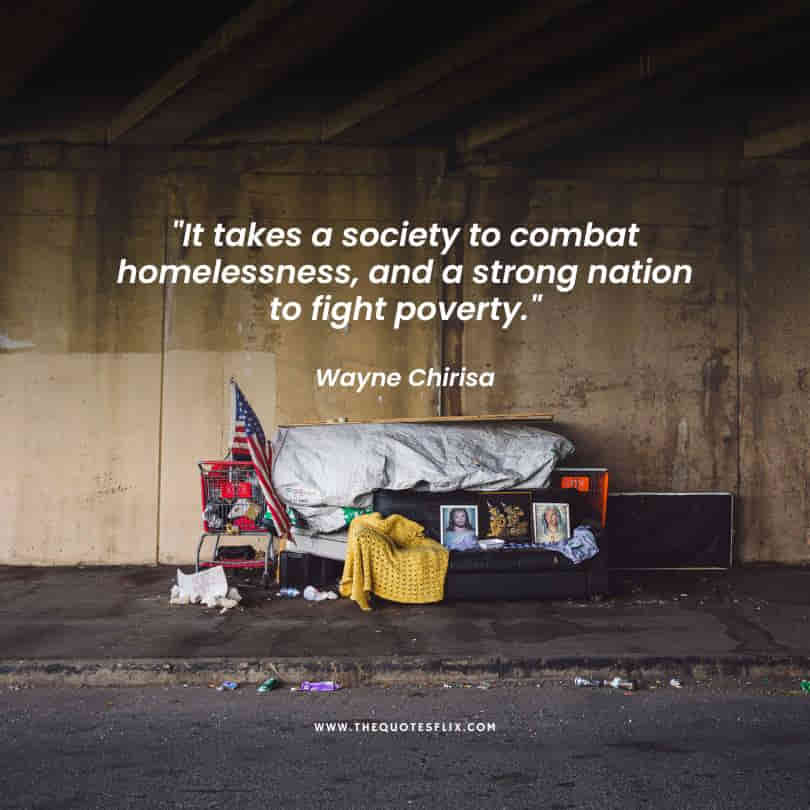 44. "Jesus experienced homelessness at Christmas so that we could experience a love we could never lose." ~ Timothy Keller
45. "Wherever there is a human being, there is an opportunity for kindness." – Seneca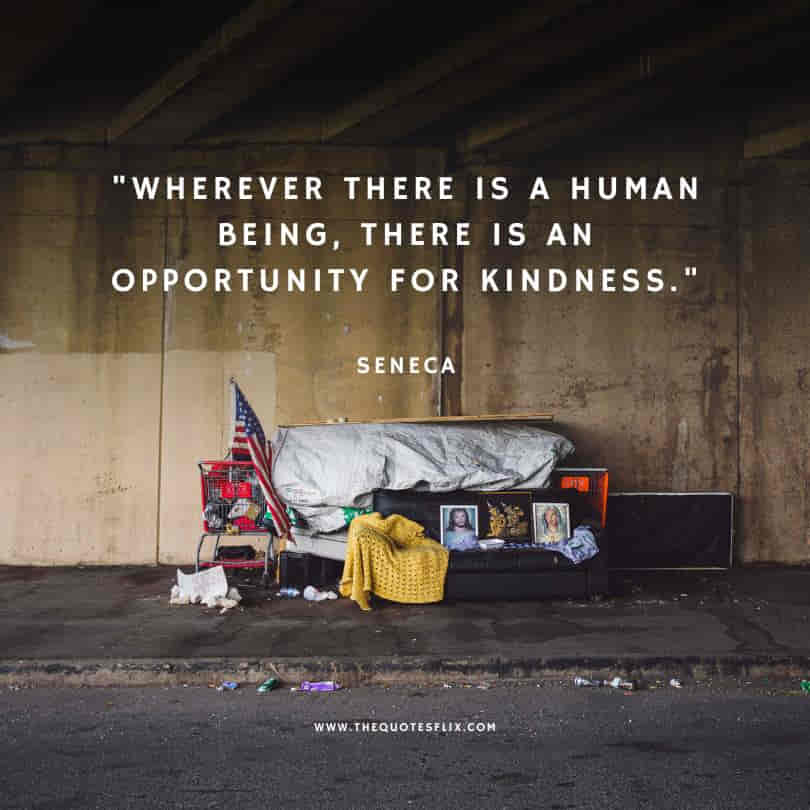 46. "There is a difference between feeding someone and eating dinner with them. If every Christian at home just made room for the stranger we would end homelessness overnight." ~ Shane Claiborne
47. "Making it so you don't have to look at homeless people isn't a solution to homelessness."— Sara Luterman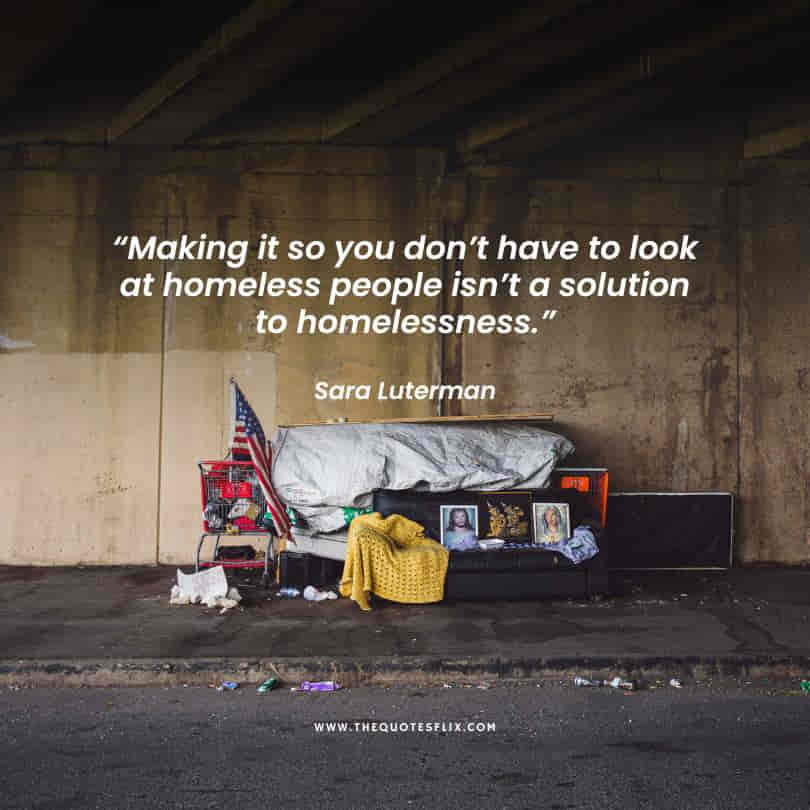 48.  "If we truly want to end youth homelessness … then we have to invest in prevention and support communities as they work to implement these life-changing efforts."
49. "Go out into the world and do good until there is too much good in the world."– Larry H. Miller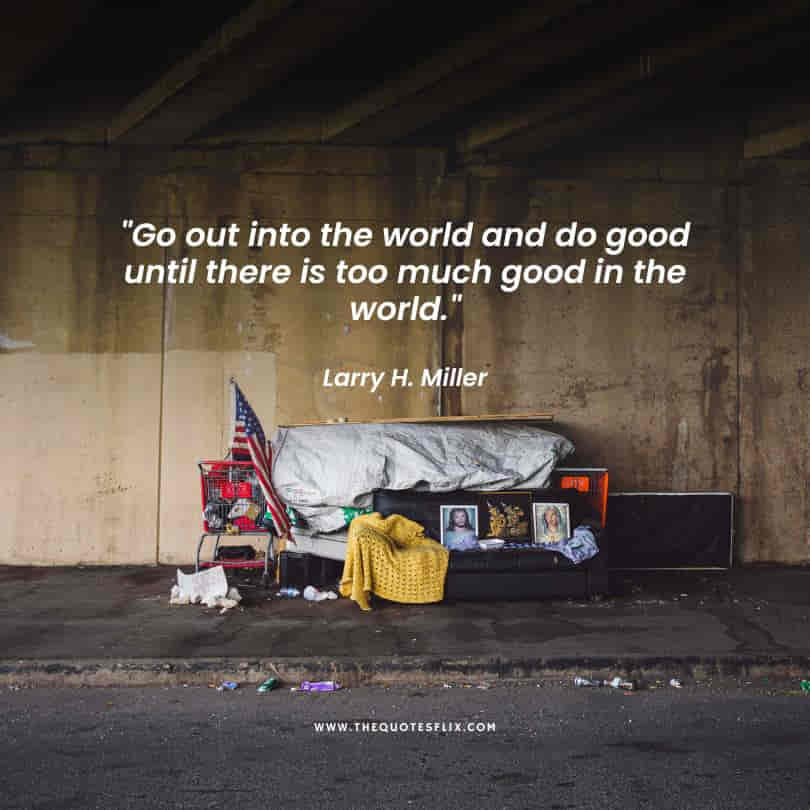 50. "The best way to find yourself is to lose yourself in the service of others." – Mahatma Gandhi
Summary
We know how tough it can be to experience homelessness. That's why we've compiled a collection of 50 inspiring quotes from various sources. We hope these quotes will uplift and encourage those facing the challenges of homelessness or needing a little inspiration.
These quotes remind us that resilience, perseverance, and a positive mindset can help us overcome even the most challenging obstacles. From famous philosophers to individuals who have experienced homelessness, the wisdom shared in these quotes will help you find the strength to keep moving forward.
So take a moment to reflect on these words of encouragement and know you're not alone. We believe in you and hope these quotes will inspire you to keep going, no matter your challenges.